Landemann Stud
Quality Riding Ponies & Part Bred Welsh
Ponies bred for conformation, movement, type, quality & temperament
Mares
Landemann comprises a small band of beautifully bred mares that form the nucleus of the studís breeding programme. These have been acquired for their superb bloodlines, conformation, type, quality, movement and temperament. The mares are not usually bred from every year, to ensure the number of ponies at the stud are kept to a sensible level. Each of the mares have been successful either in-hand or under saddle and have the qualities to produce champion stock with classic pedigrees.
Hollowmarsh Daisy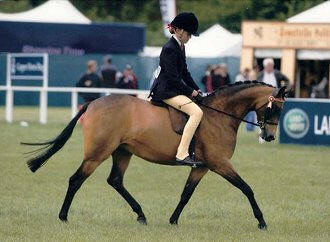 This quality mare had a very successful ridden career, being placed at the Horse of the Year Show and the Royal International Horse Show, before retiring to stud. Daisy is by Cusop Fingerprint (dec'd), and is an example of a very correct and quality show pony, with lovely free movement and excellent conformation. Through her dam line she traces back to the thoroughbred Kadir Cup, and also to the pony pony staillion Triumph, who was such a spectacular mover and who was the sire of Catherston Nightsafe. She takes her colour from her sire and is a recent addition to the stud, as I particularly wanted to find a Cusop Fingerprint mare to carry on his valuable bloodlines.
Sire:
Cusop Fingerprint

Cusop Discipline

Cusop Flamingo

Cusop Destiny

Cusop Feriel

Bwlch Valentino

Fascination of Boyne

Dam:
Polly Hester

Vircar

Kadir Cup

Perishing Street

Cot Sequin

Cot Fulmer

Catherston Spitfire
Trellech Sweet Honesty

This beautiful 137 cm mare is by Trellech Goldfinger, a son of Leighon Gertrude, dam of the infamous Trellech Giselle. Through her sire she also carries the bloodline of Bwlch Zingari, full brother to both Bwlch Zephyr and Bwlch Zip. Zingari was such a successful sire of riding pony mares, such as Penhill Bo Peep, dam of Rotherwood Peep Show, and Penhill Finola, dam of Holly of Spring. Sweet Honesty has a double cross of the lovely Choirboy, whose stock are characterised by their wonderful movement, pony type and temperaments.
Sire:
Trellech Goldfinger

Bwlch Zingari

Bwlch Valentino

Miss Minnette

Leighon Gertrude

Choir Boy

Lemington Entree

Dam:
Broadhanger Symphony

Choir Boy

Chantain

Autumn Leaf

Wingrove Minuet

Wingrove Minkino

Cusop Symphony
Ainthorpe Diamond Wedding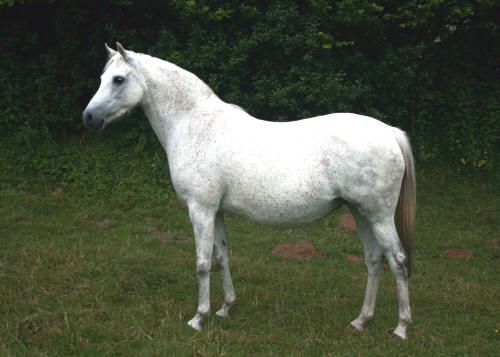 photo by: Greg Gerry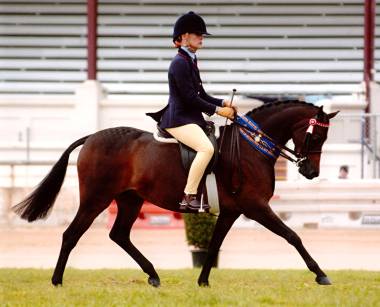 Ainthorpe Splendid Morning (half sister to Diamond Wedding)
A mare of great quality and exceptional movement, Diamond Wedding is a true type of 138cm show pony. She is by Trelawn Riverdance, who traces back to Botingelle Kingfisher, a stallion the late Vivian Eckley tried to purchase as an outcross for the famous Cusop Stud. Her dam line is equally successful as Ainthorpe Elegant Princess is a full sister to Groundhills Amazing Grace and Groundhills Mannequin, both of whom have been supreme riding pony of the year at the Horse of the Year Show.
Diamond Wedding is half sister to Ainthorpe Countess, shown by the Gilbert-Scotts, and Ainthorpe Splendid Morning, a very successful ridden pony exported to Australia.
Sire:
Trelawn Riverdance

Whitemere Sandpiper

Botingell Kingfisher

Botingelle Gambit

Wrigley Royal Flight

Keston Royal Occasion

Roseisle Fly By Night

Dam:
Ainthorpe Elegant Princess

Basford Elegant

Cusop Dignity

Basford Coppertoo

Pinchinthorpe Morning Wraith

Norwood Vagrant

Forest Phantom
Longriver Nightingale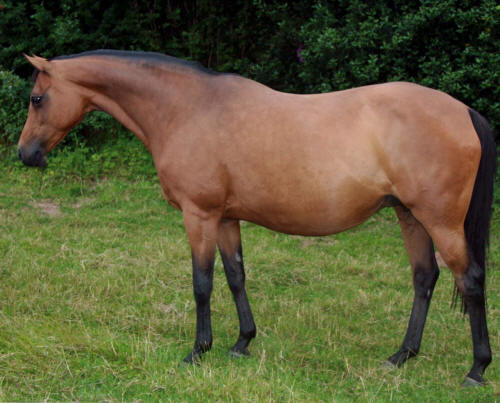 Photo by: Darren Telford
This lovely mare is a rare example of a true 148cm show pony, who possesses real pony type with a beautiful head and eye. She also has great depth and correctness of limb, with lovely movement and length of rein. Nightingale had a very successful in-hand career, when shown for just one season as a 2 year old. She is from the first crop of foals by Small-Land Maytino, who is proving such u successful sire of ridden show ponies. He is by the famous Cusop Fingerprint, out of a full sister to Small-Land Mascot, so really is bred in the purple.
On her damís side she traces back to Keston Royal Occasion, whilst the thoroughbred has influenced her extreme quality and refinement
Dam of Landemann Nighthawk, lightly shown as a yearling including Overall Supreme Champion, N.P.S. Area 28, Champion Midland In-Hand and Champion Three Counties Agricultural Show.
Sire:
Small-Land Maytino

Cusop Fingerprint

Cusop Discipline

Cusop Feriel

Small-Land Gazelle

Small-Land Mambrino

Small-Land Mayday

Dam:
Longriver Fairlady

Ffosway Royal Ascot

Rotherwood Royalist

Runnings Park Anna Purna

Peggy Wig (TB)

Counsel (TB)

Peg (TB)
Reference Mares


Lechlade Cyclamen
Cyclamen had both a successful career under saddle, being placed at the Horse of the Year Show, and followed this with an impressive show record as a broodmare. She has been overall broodmare champion at the NPS Summer Championships, as well as Three Counties, Devon County and Bucks County, and has produced a number of successful offspring by different stallions. Her breeding is that of a classic show pony, as she is by Lechlade Quince out of Jackets Celeste, who traces back to Bwlch Valentino through Cusop Celebrity. Cyclamen is a spectacular mover, and has a very pretty head and bold eye, with beautiful quality bone and limbs. She has produced two outstanding foals for the stud; one a black colt by Llanarth Aristocat (retained) and another an exceptional bay filly, Peony by Cusop Dimension (also retained, below)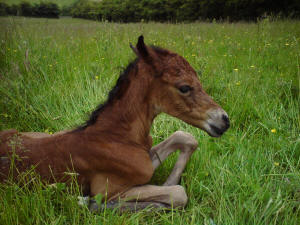 Sire:
Lechlade Quince

Trellech Moonsprite

Binghams Bivouac

Trellech Tamarisk

Sarnau Shrimp

Sarnau Royal Sovran

Sarnau Royal Imp

Dam:
Jackets Valceleste

Valiant

Bwlch Hill Wind

Catesby Valeta

Cusop Celebrity

Bwlch Valentino

Finola
Ninfied Minkís Inspiration
A daughter of the now deceased Wingrove Minkino, this wonderful 138cm mare has been very successful as a ridden show pony, being overall supreme champion at BSPS Wales, as well as being consistently successful in the ridden show pony classes at Wembley, Horse of the Year Show. She is out of the mare Havelock Tweagle, who is one of many mares by the extremely successful sire, Sarnau Golden Falcon. Her pedigree speaks for itself and her wonderful movement, correct conformation and length of rein are typical of the Wingrove Minkino stock.
Sire:
Wingrove Minkino

Bwlch Valentino

Valentine

Bwlch Goldflake

Sarnau Miss Mink

Highlight Creme Puff

Sarnau Midnight Star

Dam:
Havelock Tweagle

Sarnau Golden Falcon

Sarnau Golden Cloud

Sarnau Psyche

Twylight

Pappillon de Matin (TB)

Twouzie
Rotherwood Tiffany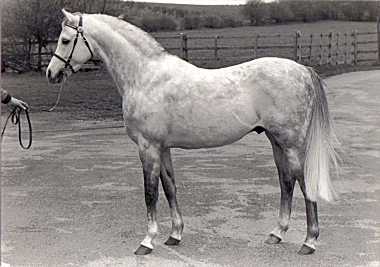 Twylands Troubadour (sire of Rotherwood Tiffany)
This classically beautiful 148 cm riding pony mare is a full sister to Rotherwood Typhoon, Tivoli and Trousseau. Typhoon was a very successful ridden pony for the Gilbert-Scotts and Trousseau was equally successful when shown under saddle by Mrs Rogers of the Risinghoe Stud.
Tiffany is an extremely elegant, refined mare, with a huge bold eye, tremendous length of rein, and a hind leg that is difficult to fault. Her extreme quality epitomises my idea of the classc riding pony, attributes she has inherited from her sire, Twylands Troubadour, who was probably the most beautiful riding pony I have ever seen. Troubadour traces back to Bwlch Valentino through both his sire and dam, whilst the lovely thoroughbred stallion, Gay Presto, features on the bottom line of the pedigree. Exported to Ireland as a youngster, Tiffany had a successful career under saddle and has been at Landemann since her return in her later years.
Sire:
Twylands Troubadour

Solway North Wind

Bwlch Zephyr

Tara IV

Bwlch Minuet

Bwlch Valentino

Miss Minette

Dam:
Lemington Titania

Seadon

Alycidon

Seaway

Lemington Gay Sprite

Gay Presto (TB)

Winkie (WSB)
Crangorton Lucky Penny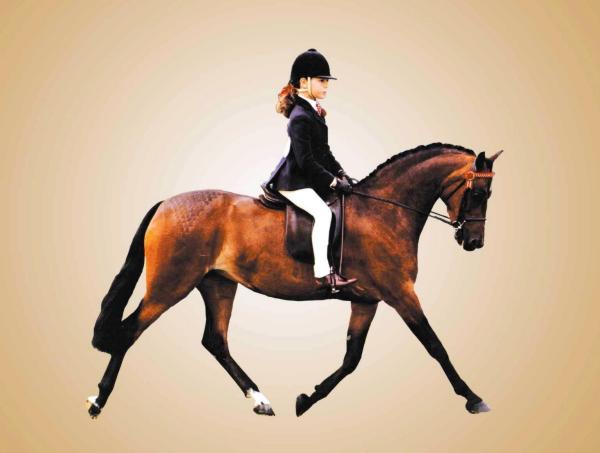 This exquisite 122cm mare had a fantastically successful show career, when ridden by Vanessa Rowland and produced by Julie Templeton. She won at all the major UK county shows and as a six year old was 2nd in the First Ridden class at the Horse of the Year Show at Wembley, when ridden by 6 year old Vanessa. She is classically bred, with her sire line tracing back to the wonderful matriarch Cusop Delilah, dam of many famous Cusop ponies, such as Dimension, Dior and Delight. Through her sire she also has the beautiful Downland Goldleaf and Mere Fire Myth bloodlines. Penny is a pony with extravagant natural movement and her excellent confirmation is characterised by her huge length of rein and tremendous scope.
Sire:
Cusop Diplomat

Downland Goldleaf

Downland Chevalier

Mere Fire Myth

Cusop Delilah

Cusop Flamingo

Norwood Delilah

Dam:
Hendre Pwtan

Hendre Hwfa

Hendre Hawddgar

Hendre Blodwen II

Hendre Pelydrog II

Coed Coch St Iwan

Hendre Pelydrog
For more information about the ponies at Landemann, or for enquiries about stock for sale, please contact:
Martin R. Jones
108 Court Farm Road, Llantarnam, Cwmbran, Gwent, NP44 3BT
Tel: +44 (0)1633 877107
The stud is situated between Monmouth and Chepstow, close to the M4, M50 and M5 motorways. Visitors are most welcome but please phone first to arrange a suitable time.
---
All rights reserved, © 2005 by Equestrian Websites
0845 6585 444 or +44 (0)1443 879777